LARRY LIVERMORE OSPITE SPECIALE DEL GREEN DAY FEST 2016
1 min read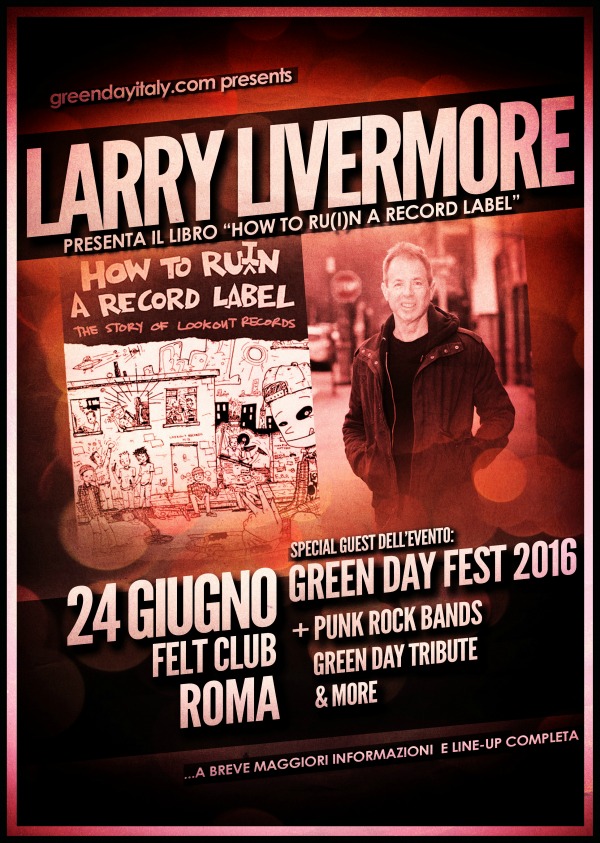 Siamo incredibilmente felici ed onorati di annunciarvi che Larry Livermore arriverà in Italia Venerdì 24 giugno per presentare il suo nuovo libro: "How To Ru:i:n A Record Label: The Story of Lookout Records" al nostro Green Day Fest 2016 che si terrà a Roma presso il locale Felt Club il 24 Giugno.
Sarà un'occasione unica per incontrare un uomo straordinario che è stato estremamente importante per la storia dei Green Day, e per la storia del punk rock.
[divider]
We're incredibly happy and honored to be able to tell you that Larry Livermore will come to Italy on Friday June 24th to present his new book at our music festival Green Day Fest 2016 that will take place in Rome at Felt Club on Friday June 24th.
Save the date, it will be a unique chance to meet an extraordinary man who's been extremely important for the history of Green Day and Punk Rock music.