Uscirà il 22 giugno il DVD di Turn It Around: The Story Of East Bay Punk, documentario prodotto dai Green Day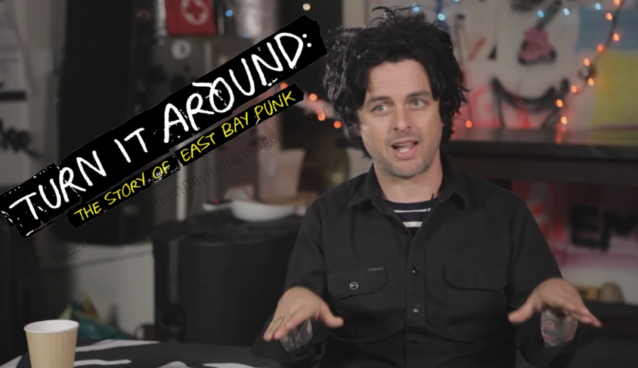 È stata finalmente annunciata per il 22 giugno, la data di uscita del DVD di Turn It Around: The Story of East Bay Punk documentario che ripercorre la storia del punk della East Bay, diretto da Corbett Redford e prodotto dai Green Day. Nello stesso giorno dovrebbe essere rilasciata anche la compilation con la tracklist del documentario in formato vinile ( color blu ) ed in doppia cassetta, che verrà consegnata con una ristampa della leggendaria compilation di Lest We Forget di Aaron Cometbus del 1991. Tra le canzoni che troverete nella compilation c'è anche una DEMO INEDITA di 'Sweet Children' tratta da una sessione al 924 Gilman del 1989.
Il film, della durata di oltre due ore, esplora il ruolo cruciale della California settentrionale nell'evoluzione del punk rock: la filosofia, intensa e anti-autoritaria della musica e della politica sorta alla fine degli anni '70. I primi pionieri della zona della Baia di San Francisco come i Dead Kennedys, Avengers and Flipper, così come la fanzine di Maximum Rocknroll che hanno aiutato a portare il punk nel mondo. Questo documentario presenta un variegato spettro di musicisti e artisti che sono stati tutti influenzati o hanno partecipato alla scena punk della California nella Bay Area negli anni '70, '80 e '90. Il cast del documentario riflette la profonda e rinomata diversità della comunità creativa che circonda la Bay Area della California, con interviste con membri passati e attuali del 924 Gilman, Maximumrocknroll, Dead Kennedys, Avengers and Flipper, Green Day, Rancid, Lookout Records, Neurosis, Operation Ivy, Crimpshrine, Jawbreaker, NOFX, Primus, Metallica, Bikini Kill, AFI, Bad Religion, Guns 'N' Roses, Fugazi, 7 Seconds, Dicks, Subhumans e molti altri ancora. Oggi, si conoscono alcune band che sono emerse da questa scena, come Green Day e Rancid, ma il loro successo è solo la punta dell'iceberg; le radici di questa storia ispiratrice penetrano nell' underground Narrato da Iggy Pop e prodotto dai Green Day, Turn It Around è raccontato dalle persone che erano presenti.
Di seguito potete invece guardare la tracklist ufficiale della compilation:
1. Crimpshrine – Another Day
2. Fang – I Wanna Be On TV
3. Christ On Parade – Thoughts Of War
4. Special Forces – Berkeley Hardcore
5. Corrupted Morals – Be All You Can Be
6. Neurosis – United Sheep
7. Sewer Trout – Wally And Beaver Go To Nicaragua
8. THE LOOKOUTS – Mendocino Homeland
9. Isocracy – Hippie Man
10. Soup – Control
11. SWEET CHILDREN – Sweet Children (Demo)
12. MTX – At Gilman Street
13. Sweet Baby – She's From Salinas
14. Kwik Way – Pacifica On Saturday
15. Kamala And The Karnivores – Back To Bodie
16. Jawbreaker – Equalized
17. Crimpshrine – Summertime
18. Operation Ivy – Hedgecore
19. Beatnigs – Television (Radio Edit)
20. Operation Ivy – Unity
21. Filth – The List
22. Blatz – Berkeley Is My Baby
23. Econochrist – Epidemic
24. Spitboy – Sexism Impressed
25. Yeastie Girlz – Yeast Power
26. Nuisance – Dragonfly
27. Monsula – Firecracker
28. PINHEAD GUNPOWDER – Losers Of The Year
29. Pansy Division – Luv Luv Luv
30. The Potatomen – On The Avenue
31. Jawbreaker – Condition Oakland
32. NOFX – I'm Telling Tim
33. Rancid – Journey To The End of the East Bay
34. GREEN DAY- Welcome To Paradise (Kerplunk)
35. THE ARMSTRONGS – If There Was Ever a Time
• Potete sin da subito pre-ordinare il DVD su Amazon.it: https://amzn.to/2KZR5KO
• Per informazioni sulla musicassetta: https://bit.ly/2KHdhdn
• Per informazioni sull' LP: https://bit.ly/2FQMjwr
Guarda il trailer di Turn It Around: The Story Of East Bay Punk